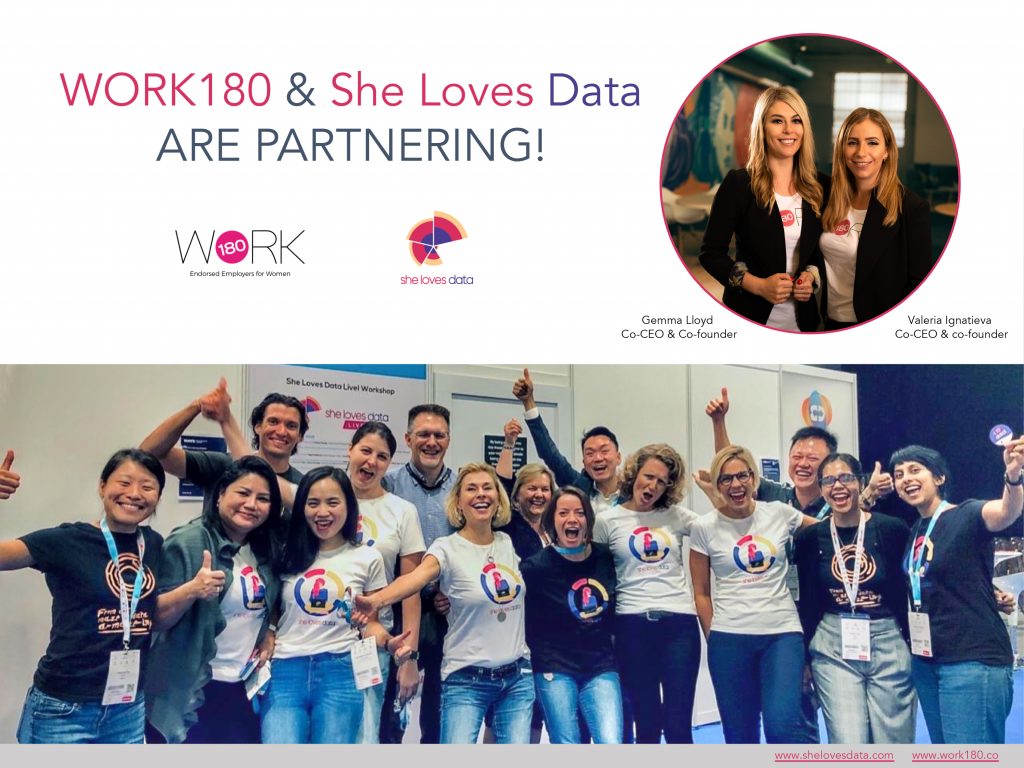 Sydney, Australia – She Loves Data is proud to be partnering with WORK180 in order to bring about greater diversity, inclusion and equality at the workplace even before candidates start their job searches.
Together, they offer Australia a one-stop career search platform which builds on the strength of She Loves Data's growing international community while offering women greater control and decision making in the process.
Headquartered in Singapore, with chapters worldwide including Sydney and Melbourne, She Loves Data is a non-profit organisation which aims to reduce the gender gap in Technology. As Diversity Initiative of the Year at the 2019 inaugural Women in IT Asia Awards, it offers women from all walks
of life and abilities its signature data literacy workshops, supported by strong partners aligned with its vision.
Eva Taase, She Loves Data's Sydney Chapter Lead says, "We love working with WORK180 because their focus on equality and inclusion is very important for our community. The partnership between She Loves Data and WORK180 is an important milestone. Over 30% of our members are looking for
a career change. With WORK180 our community will be able to directly look for jobs in companies where diversity, equality, and inclusion is practiced."
WORK180 provides female job applicants with a transparent directory of Endorsed Employers who must meet a minimum set of benchmarks to advertise job opportunities on their site. This means information around pay equity, flexible working hours, paid parental leave and equal opportunities are made known to job seekers to better inform their decisions on which companies can better suit need their needs.
Valeria Ignatieva, WORK180 CEO and Co-founder says, "She Loves Data is a supportive community of over 15,000 women in data and we´re excited about collaborating with the group and our community of WORK180 Endorsed Employers to open up more opportunities for women in STEM."
For more information, please contact:
[email protected]
[email protected]
Related Posts
WORK180 asked leading women in IT about their top tips and advice for anyone interested in growing a career in technology. So, you want to get into tech? Well, now's the right time. With new...